PUBLIC ART PROJECTS
ABOUT THE ARTIST
Articles and Essays
ARABESQUE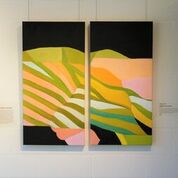 ARABESQUE JUNE THROUGH AUGUST 2018 ALBIN POSASEK MUSEUM. WINTER PARK, FL.
The pinks, greens and yellows in my painting were inspired by stay in Valencia where I was surprised to discover Moorish influences everywhere. In Valencia I attended an event called the annual Battle Of The Marigolds. Thousands of Marigolds carpet an area as large as a football field and flower-laden floats compete for best in show. At the grand finale, Marigolds rain down on the heads of spectators-nearly like being immersed in orange and yellow pigment.

I made sketches on site and took photos, all source material for this and other paintings.